Trek to Ama Dablam High Camp
Tendi will accompany you on a trek through the beautiful Khumbu valley to the base camp of Ama Dablam at 4,570 metres where you will overnight before hiking to the high camp of Ama Dablam at 5,216m and returning for a second night at base camp.  
This trek is also an opportunity to learn about Sherpa culture as you visit Namche Bazaar, the Sherpa capital, which is rich in culture and tradition and depicts a typical Sherpa lifestyle. 
In your 2 days at base camp you will mix with many climbers and experience life at a proper 'base camp'. 
Ama Dablam, 6,812 metres, is considered one of the most beautiful peaks in the World and dominates the eastern sky for several days on the route to Mt Everest. 
Ama Dablam means "Mother's necklace" as the long ridges on each side of mountain resemble the arms of a mother (ama) protecting her child and the hanging glacier looks like the dablam, a traditional double-pendent with pictures of gods, worn by Sherpa women.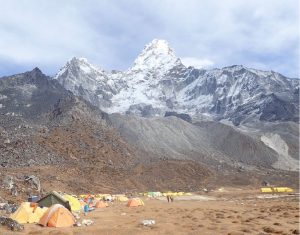 Ama Dablam is also referred as "Matterhorn of the Himalayas" because of its soaring ridges and steep faces.